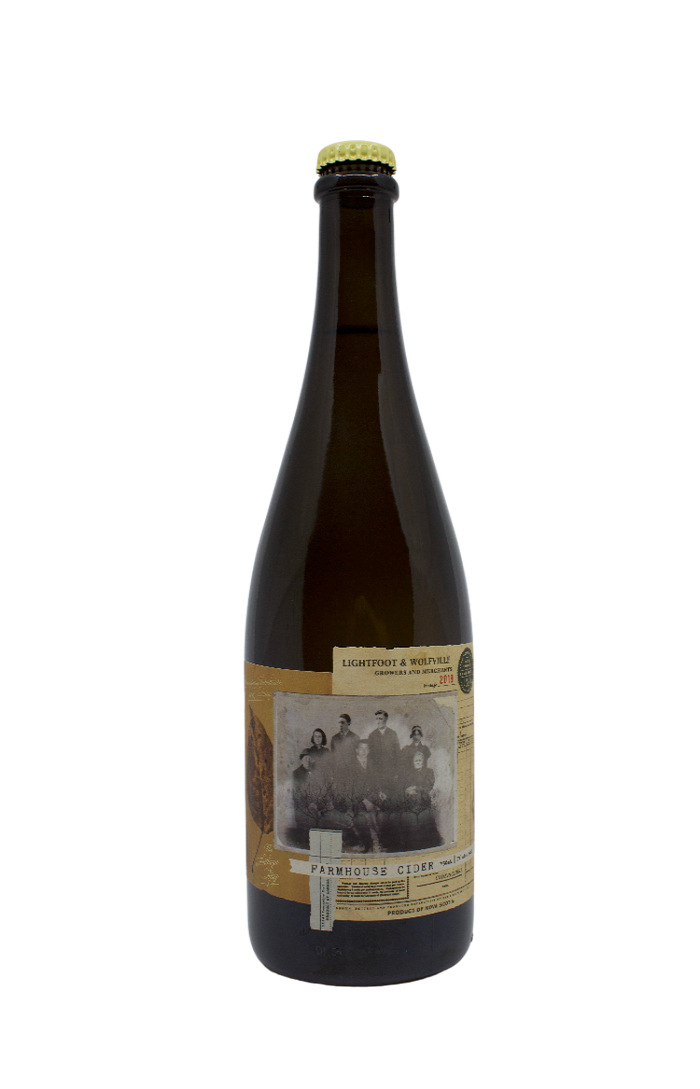 Regular price $21.74 On Sale from $17.39 / 750mL
2019 Farmhouse Cider
Long before we ever began producing wine, the Lightfoot Family has had a long standing tradition of small-scale cider making over our eight-generation farming history in the Annapolis Valley. Following a recipe handed down from generation to generation, beginning with Michael's grandfather.
The title "farmhouse" is linked to traditional cider making days past, when cider was made on a farm from the fruit of an adjacent orchard, in very small batches using age-old techniques. A philosophy that yields an end product with a strong sense of place and time; very similar to the way we think about and craft our wines. Borrowing from the world of wine, we vintage date our cider to acknowledge that apples, like grapes, have varying growing seasons and year to year differences that should be celebrated.
Juice from feral, uncultivated apple trees scattered throughout the tree line at our Oak Island Vineyard in Avonport and our Home Farm in Wolfville was blended with local apple juice sourced just down the road from Stirling Fruit Farms, signifying the decades-long friendship between Donnie Lightfoot and the late Ralph Stirling Sr.
The story goes that in years past, the best ciders were unintentionally created by bottling while fermentation was still finishing up, with a lack of filtration or any stabilization, creating fine yet lively bubbles and a sediment which was simply decanted off or mixed in when enjoyed; rustic and raw. Our methodology has remained very much the same to this day with the carbonation generated by fermentation occurring inside the bottle, providing a fine mousse and persistent bubble. Aging on the lees for 12 months added texture and complexity.  
Technical Details
Composition

A blend including five tart and tannic heritage-type apple varieties - Northern Spy, Golden Russet, Bishop Pippin, King, Cox Orange - and 10% Bartlett Pear juice

Alcohol

7%

pH

3.82

Total Acidity

4.5 g/L

Residual Sweetness

<2 g/L

Production


3024 Bottles (750 mL)
Tasting Notes
In the glass, the cider is golden in colour with baking spice, roasted apple, and layered toast notes. It's completely dry and serious yet delightfully drinkable and refreshing on its own or paired with food, especially pork with apples and sage.
Service Temperature: 8-10°C
Recommended Drinking: 2021-2026